Check out our open positions!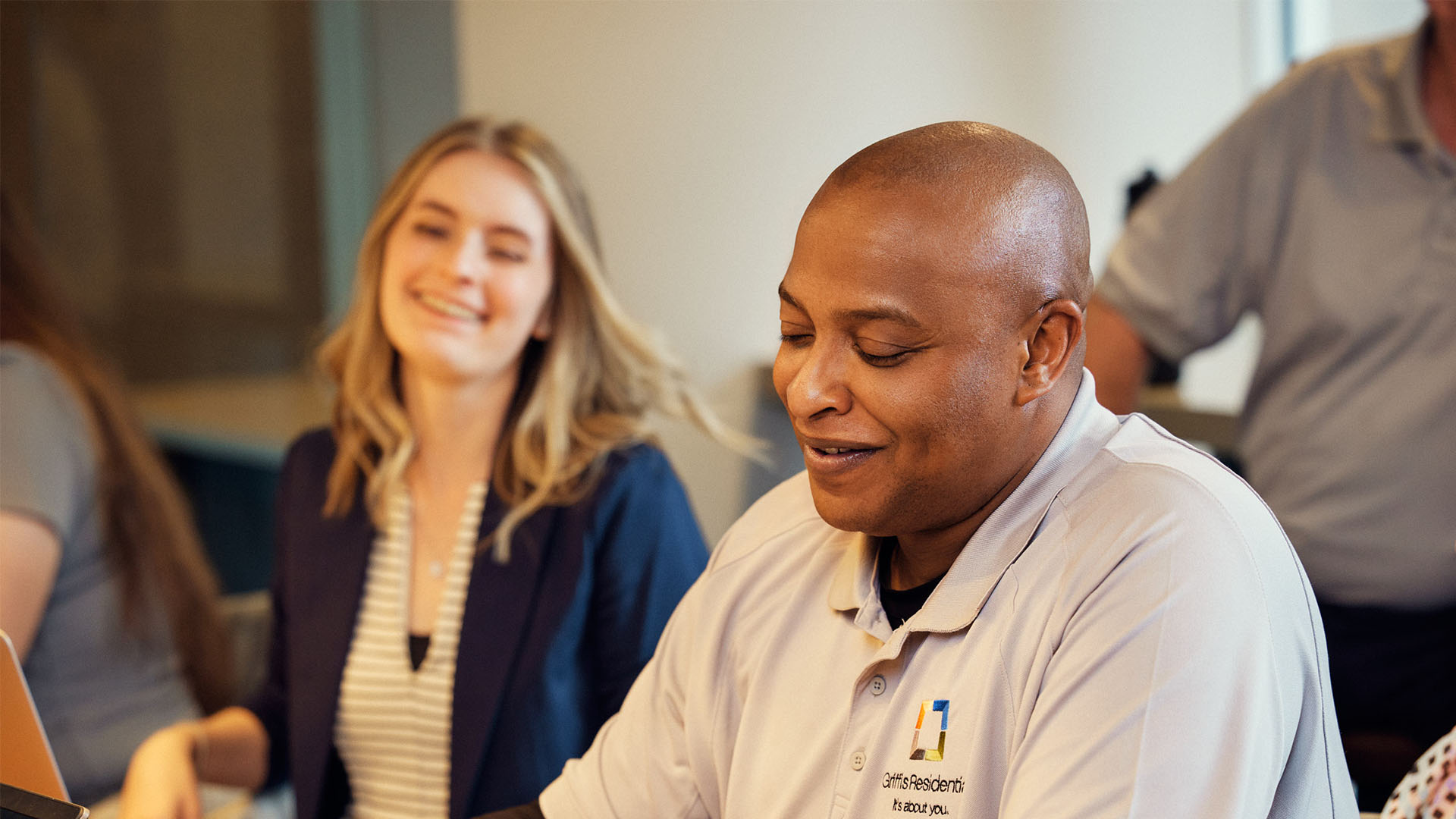 Find Your Next Opportunity
We believe that our commitment to customer service can only be achieved in a workplace that values its associates. Griffis Residential provides a place for self-expression and offers opportunities to grow. It's no wonder that Griffis Residential has been consistently recognized as one of the "Top Workplaces."
Griffis Residential offers a well-rounded benefits package that provides our associates opportunity to take care of themselves and their families today as well as in the future.
Health

Mind & Body Wellness

Paid Time Off

New Parent Benefits

Retirement

Professional Development

Rental Discount

Community Engagement

Recognition and Rewards

Competitive Compensation
"It's About You" Culture
Griffis Residential keeps it positive, encouraging team collaboration, growth initiatives and maintaining the ultimate resident experience. We believe in respecting and rewarding those that create an enjoyable environment and compensate for the time and effort given to do so.
Core Values
The Griffis Residential Core Values characterize the belief system on which the company is based.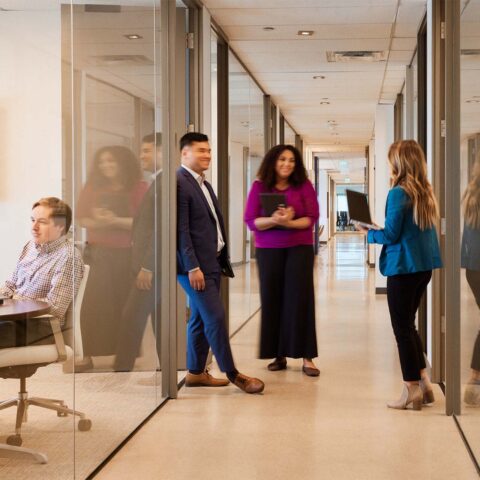 Empathy
The ability to identify with someone else's feelings or beliefs
Guest Culture
Providing a special experience for each guest in an effort to create product preference and guest loyalty
Persistence
Consistent support of the ideas and actions in which you believe
Stewardship
A team who shares a common focus, a shared vision about the importance of the capital assets, investments of owners and shareholders, and their personal responsibilities to assure reliable and stable operations
Initiative
The ability to consider approaches you've never considered before, brainstorm with others, and be a champion of new ideas
Grow with Griffis Residential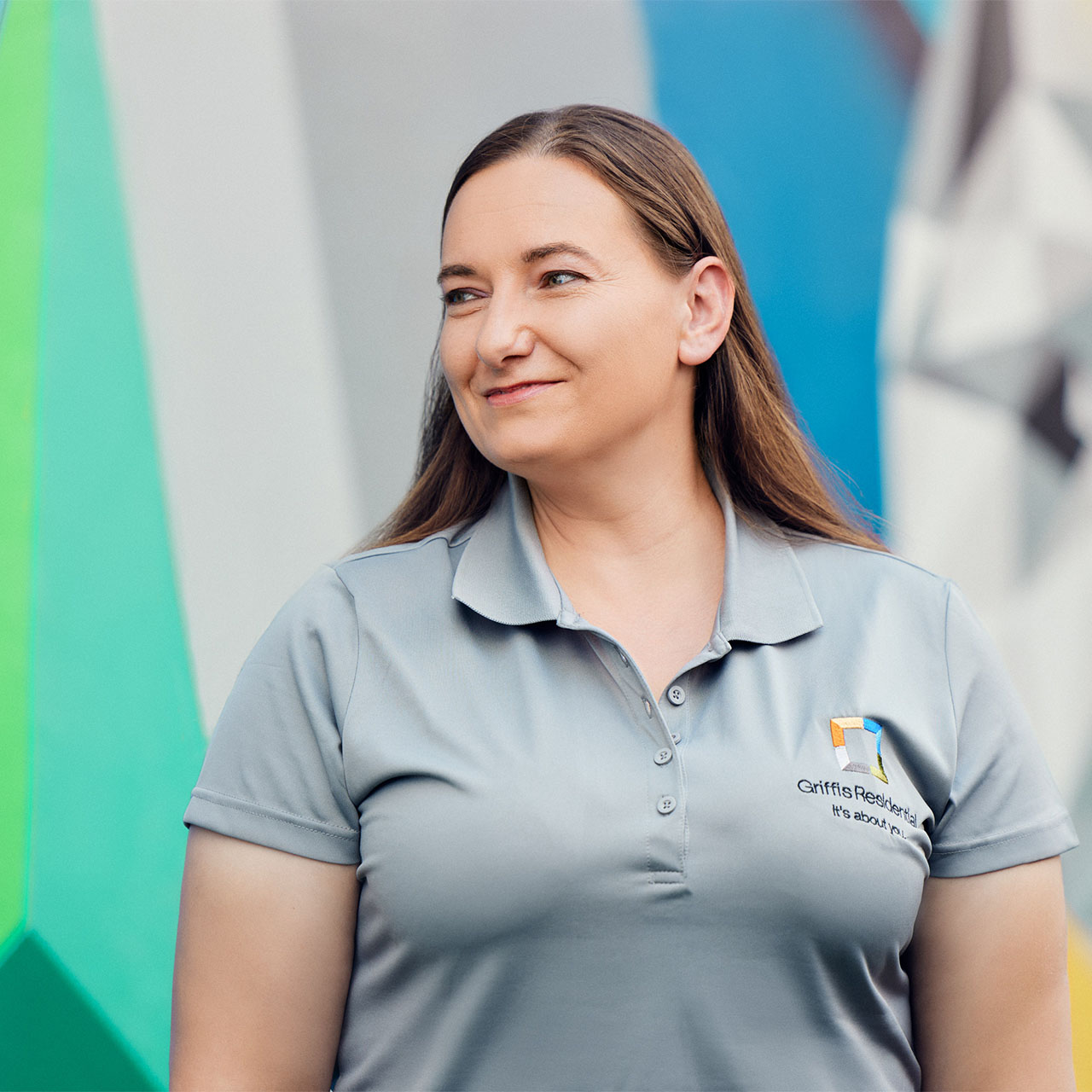 Service Technician
Mandi Fellers
"I am very grateful for the opportunity I was given in the Service Technician role because I love my job. I have been trained by the best in the industry and have knowledge and purpose to my position to be the best tech I can be."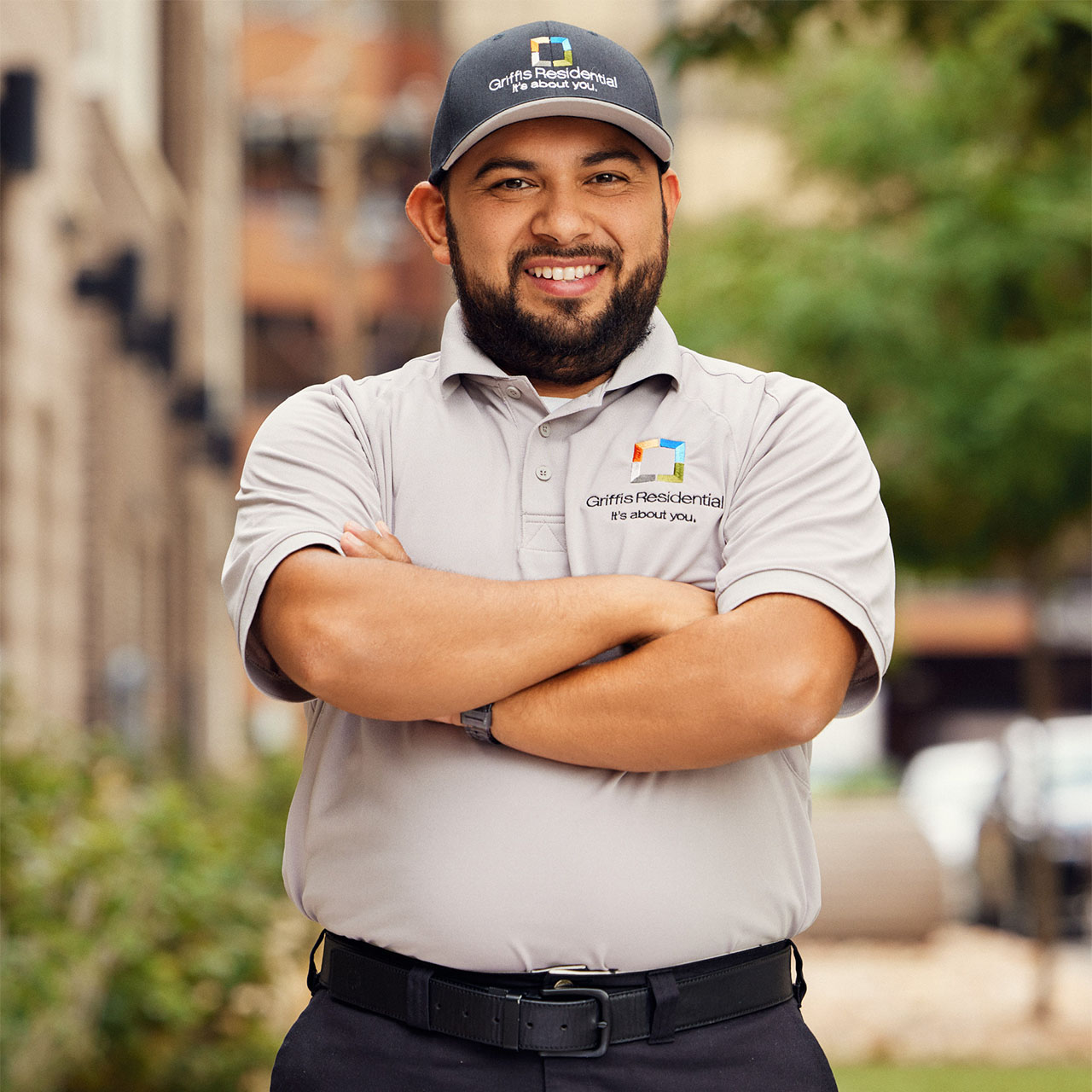 Service Manager
Jorge Manzano
"As a Service Manager, I'm able to continue to grow my knowledge and skills in my field. Often I am required to use critical thinking to solve service requests, as well as improve my project management skill set."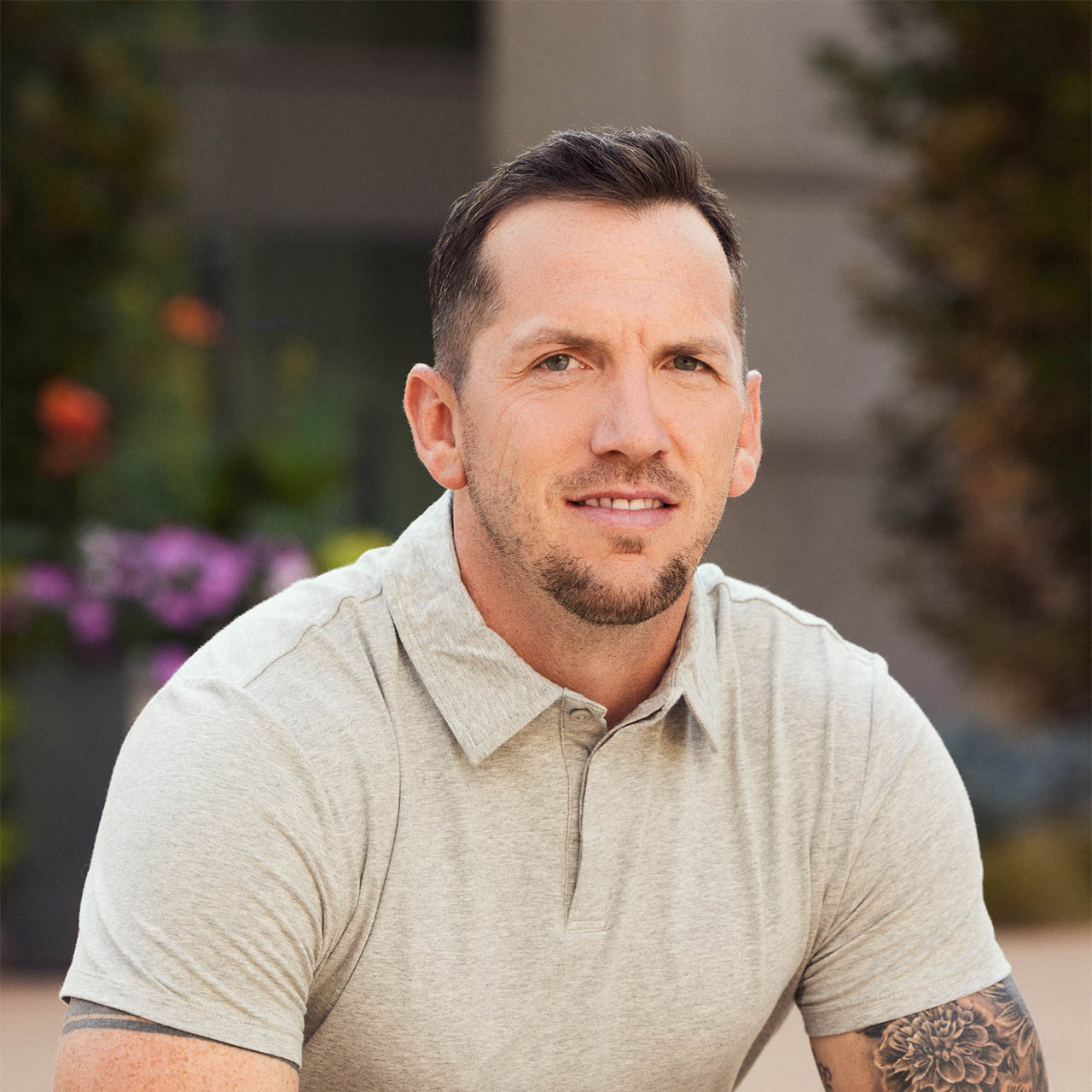 Regional Service Manager
Ryan Vonier
"As a Regional Service Manager, staying organized and multitasking is key. I lead and support my team and collaborate on projects to protect assets, add value to communities and provide great customer service."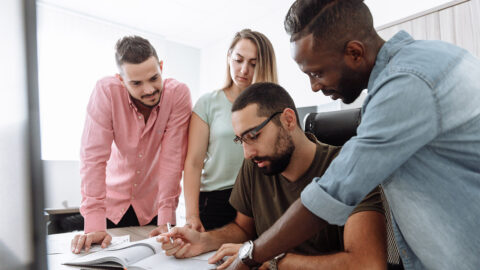 DE&I Team Mission
Our Diversity, Equity and Inclusion mission is to express our Core Values, recognize and promote diversity and contribute to initiatives that help us create a sense of belonging. We strive to always encourage equality that extends to our associates, residents and partners.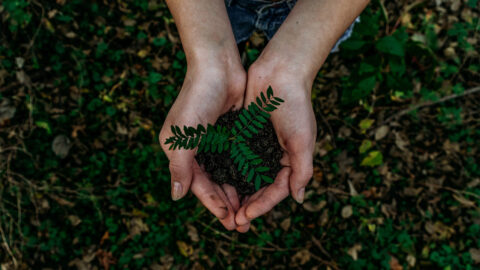 Sustainability Efforts
We believe in the strength of corporate citizenship and the value of a diverse and inclusive team. We continue to identify, monitor and implement a series of initiatives that will improve and strengthen our sustainability efforts.
Top Workplaces USA Winner
2021 DE&I Practices Award
2023 Culture Excellence Awards
2023 Culture Excellence Awards
7-Time Denver Top Workplaces Winner
Benefits
Griffis Residential offers a comprehensive and robust benefits package. Competitive health, dental, and vision insurance. 100% company paid life, short-term and long-term disability benefits. Flex Spending (FSA) and Health Savings (HSA) Accounts.
The link below leads to the machine-readable files that are made available in response to the federal Transparency in Coverage Rule and includes negotiated service rates and out-of-network allowed amounts between health plans and healthcare providers. The machine readable files are formatted to allow researchers, regulators, and application developers to more easily access and analyze data.
Cigna Machine Readable Files
Employee Assistance Program (EAP), Mind and Body membership reimbursements, and a Wellness Program are offered to our associates.
Griffis Residential offers a generous PTO policy with accruals beginning on day one. Our associates accrue an additional 8 hours of PTO for each year of service.
Offered to associates so they can spend time with their growing family.
Employer matched 401k plans offered.
Tuition Reimbursement up to $5,250 per year, PTO Exchange for Student Loan Repayment Program, Leadership Development Program and training and education programs which promote growth and development of our associates.
50% discount provided for Onsite associates and 20% discount provided to all corporate associates who live at any Griffis community.
One day per calendar year paid volunteer time.
Yearly Awards Ceremony, team building events, and activities.
Competitive base pay, quarterly bonuses, and commissions available for onsite associates.